BASEBALL
The baseball program at Athens Christian School offers student-athletes the opportunity to compete at the highest level of High School baseball in Northeast Georgia. The game of baseball will prepare these young men with the value of teamwork, accountability and dependability.
The facility at ACS is one of the best in the state of Georgia. In 2013, the playing surface was replaced with new drainage, irrigation and sod. This has made the playing surface the nicest in the area. Along with the diamond renovation, the hitting facility was completely revamped. Installed in 2014, the facility consists of 2 batting tunnels that are 55 feet long, 17 feet wide and 12 feet tall. Wooden, permanent mounds are also inside the facility. The cages are heated and have 5 roll-up garage doors for warmer days.
During the summer of 2018, the baseball complex received a major facelift. A new brick backstop (with new netting), brick dugouts and a 4000 square foot clubhouse take this complex to the next level. The clubhouse accommodates coaches offices, coaches conference room, coaches locker room and showers, players locker room, wooden players lockers, team meeting room and laundry facilities.
In the past 5 seasons, the Eagles have won 83 games, been to the GHSA State Playoffs 5 times, the Sweet Sixteen one time and the Final Four in 2017 and 2021. Fourteen former Eagle baseball players have gone on to continue their education in college while playing baseball.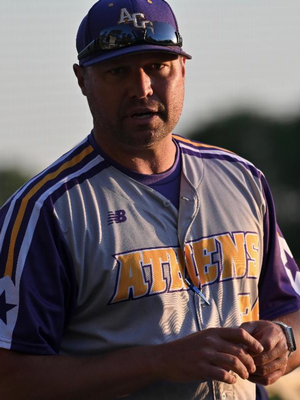 Jake Westbrook
Head Coach, Varsity Baseball
Coach Westbrook and wife, Heather, have four children at ACS. The Westbrook family has been at Athens Christian School since 2011. Both Jake and Heather have been involved in ACS athletics from coaching youth sports to being great fans and supportive parents. Coach Westbrook has been actively involved with the baseball program at ACS since 2015, serving as the pitching coach. Westbrook is a former Major League Baseball pitcher. He was drafted into the MLB out of high school and played 13 seasons. Westbrook played for the New York Yankees, Cleveland Indians, and St. Louis Cardinals. Coach Westbrook won a World Series championship with the Cardinals in 2011 over the Texas Rangers.

"I think he is a great coach and a great person to be around. He always shares the gospel and brings us closer to God. That just encourages me and brings me joy to know that my coach is helping me grow in my walk with Christ." - Titus Cummings