HEAD OF SCHOOL'S CORNER
Steve Cummings is a 1981 graduate of Athens Christian School, and the youngest son of ACS Founders, Drs. Buhl and Lois Cummings. In 1984, Mr. Cummings graduated with a Bachelor's degree in Social Studies Education from Bob Jones University, and in 1987, obtained his Juris Doctor degree from The University of Georgia School of Law. Following a two-year, federal judicial clerkship, Mr. Cummings practiced law in Atlanta and Athens from 1989 until July, 2008, and served as Legal Counsel for the American Association of Christian Schools. In July of 2008, Mr. Cummings became the second Head of School in the history of Athens Christian School. Mr. Cummings is married to Michelle Hebert Cummings from Kenner, Louisiana, and has four sons, Joshua, Elijah, Titus, and Seth.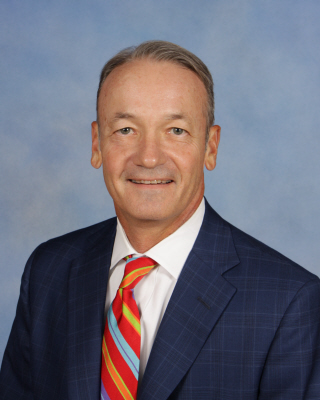 Steve Cummings
Head of School
Degrees
College

Bob Jones University

(1984)

Post-graduate

UGA School of Law

(1987)
WEEKLY COLUMN
11/22/19
CONGRATS, ACS ONE ACT TEAM! We want to congratulate our ACS One Act Team, as they tied for First Place at this weekend's ACSI One Act Play Festival. We also want to congratulate ACS Senior, Robert Loveall, who was named Best Actor at the Festival.
The Festival is the brainchild of ACS One Act Director, Jack Bamford, and it was started, in part, to provide an opportunity for ACSI schools in Georgia to come together and hone their one act skills.
Congrats also to ACS student actors Virginia Green, Lydia Anne Mitchell, and Noah Walker, who were named to the All-Star cast. And, thanks to all of the ACS parent volunteers who made this wonderful weekend possible!
11/15/19
CONGRATS TO MR. JERRY TAYLOR! ACS congratulates our FFA Director, Mr. Jerry Taylor, for being chosen to receive the prestigious Honorary American FFA Degree. This award is given to those who advance agricultural education throughout the Country with outstanding personal commitment and leadership.
Mr. Taylor has over 30 years of professional experience and does an outstanding job leading the FFA program at Athens Christian. This award honors the extraordinary difference that Mr. Taylor has made in the lives of numerous students throughout his career.
The National FFA Organization provides leadership and personal growth opportunities to over 700,000 student members. We are extremely proud of Mr. Taylor, and are richly blessed to have him on staff here at ACS.
11/01/19
ONE ACT PROPS! - Congrats to the ACS One Act Team for a great performance at the GHSA Literary Competition this past Saturday!
Senior Virginia Green was recognized as Best Supporting Actress in the competition for her role as Lady Bracknell. Seniors Robert Loveall, Raegan Reinking, and Lydia Anne Mitchell were named to the Area 4 All-Star Cast. Other members of the ACS cast and crew included Noah Walker, Malina Ruiz, Austin Morgan, Lane Conner, Anna Ayers, Kailey Prewitt, and Olivia Synan.
One Judge said, "I could not believe I was listening to a high school production - actors delivered lines with the skill of college actors and beyond." Thanks to Director Jack Bamford and all those who made this special day possible.
10/25/19
LIGHTS, CAMERA, ACTION! - This coming Saturday, the ACS One Act Team will compete in the GHSA Area 4 Literary Competition. Director Jack Bamford has chosen The Importance of Being Earnest for this year's performance.
This play highlights the superficial traditions and arrogance of Victorian society. While earnestness was considered an important societal value of the times, the story focuses on two suitors living double lives and two women whose primary goal is to marry someone named "Ernest."
Robert Loveall and Noah Walker play the two suitors, while Lydia Anne Mitchell and Raegan Reinking star as Cecily and Gwendolyn. Virginia Green and Malina Ruiz also do a wonderful job as Lady Bracknell and Miss Prism. Best wishes to our One Act Team!
10/11/19
SUPERIOR PERFORMANCE BY THE ACS BAND! - This past Saturday, the ACS Marching Band, Color Guard, and Majorettes participated in the Eagles Nest Invitational Marching Band Competition held at Collins Hill High School, and they came home with several awards.
The Marching Band was Best in Class - General Effect for their performance of "The 80's Show." Both the ACS Color Guard and the Majorettes also received Best in Class awards at the Competition, and the ACS Percussion group received a Superior rating, the highest rating possible.
Congratulations to Band Director Nathan Pillsbury, who does an outstanding job with these young men and women. And, thanks to all of the coaches and parents who made this an incredibly successful day!
10/04/19
AREA CHAMPS! - A big SHOUT OUT to our Athens Christian FFA Land Judging Teams and to FFA Advisor, Mr. Jerry Taylor. They recently finished 1st and 3rd at the Area 2 Career Development Event.
The Junior Team placed 1st, earning the right to compete in the State Land Evaluation CDE against 11 other teams. The Area Champions included Trey Taylor (1st), Nora Atkins (4th), Bryson Jones (5th), and Emma Grace Hutton (8th). The Senior Team placed 3rd, and team members included Matt Kierulf, Cord Lytle, Cody Aiken, and Katy Griffin.
Georgia FFA has over 42,000 members, so getting the opportunity to compete for a State Championship is a big deal. Best wishes as ACS moves on to State.
09/27/19
HOMECOMING WEEK! - It's Homecoming week at ACS, and we are celebrating our 50th with a special Golden Anniversary theme. Our annual Spirit week will be full of "golden" excitement and memories of how we have been blessed over many years.
The School will host an Anniversary dinner for our alumni on Friday night, and we will honor our past Homecoming queens with a special Parade of Queens prior to the game. We look forward to seeing our alumni this week.
Scripture has much to say about homecomings. For Believers, our ultimate homecoming will be when we join our Father in Heaven. Until that time, we are simply passing through this life on earth, looking forward to that great reunion in the sky.
09/20/19
FARM-TO-TABLE - Congrats to the ACS FFA Chapter for receiving a "Living to Serve Grant" in the amount of $3,000! This nationwide grant program provides money to local FFA chapters to support service projects that address needs related to hunger, health and nutrition, and community engagement.
The ACS FFA will address hunger and community engagement by hatching chickens in an incubator and raising them in a coop. We plan to raise 15-20 White Leghorn hens during the school year and then donate the eggs to a local food bank.
A special thanks to Mr. Jerry Taylor, our FFA Sponsor, for obtaining this grant. I know our FFA students will enjoy the opportunity to serve others through this hands-on learning experience.