HEAD OF SCHOOL'S CORNER
Steve Cummings is a 1981 graduate of Athens Christian School, and the youngest son of ACS Founders, Drs. Buhl and Lois Cummings. In 1984, Mr. Cummings graduated with a Bachelor's degree in Social Studies Education from Bob Jones University, and in 1987, obtained his Juris Doctor degree from The University of Georgia School of Law. Following a two-year, federal judicial clerkship, Mr. Cummings practiced law in Atlanta and Athens from 1989 until July, 2008, and served as Legal Counsel for the American Association of Christian Schools. In July of 2008, Mr. Cummings became the second Head of School in the history of Athens Christian School. Mr. Cummings is married to Michelle Hebert Cummings from Kenner, Louisiana, and has four sons, Joshua, Elijah, Titus, and Seth.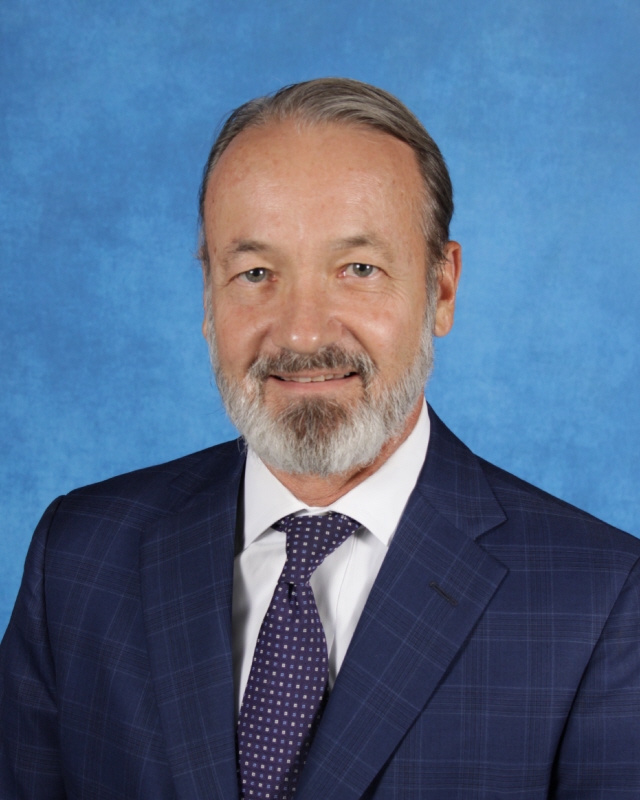 Steve Cummings
Head of School
Degrees
College

Bob Jones University

(1984)

Post-graduate

UGA School of Law

(1987)
WEEKLY COLUMN
07/31/20
BACK ON CAMPUS! - On August 14, our students will return to ACS for on campus instruction. We are SO excited to be starting school!
We have made a number of modifications to our campus and our regular routine in an effort to provide a safe campus for our ACS families. For those who cannot be with us when we start, we are providing a rigorous online program, which includes live instruction that will be live-streamed from our classrooms. We do hope our online students can be back on campus soon.
The research data is overwhelming - KIDS NEED TO BE ON CAMPUS! This is critically important for their emotional, spiritual, and academic well-being. May the Lord protect our campus when we return.
07/24/20
GOOGLE CAMPUS - Over the last 3 years, ACS has been moving toward fully utilizing the Google educational suite for both on campus and online learning. This summer, we were able to complete the move with an additional purchase of Chromebooks that will put a school-monitored Chromebook in the hands of every Middle School and High School student at ACS. In addition, with the installation of Chromebit labs, our Lower School is now at a 2-to-1 ratio for Google technology.

The School has installed appropriate "firewalls" on all of our devices and has purchased software giving additional security capabilities to our teachers and administrators. Our goal has always been to provide the best and safest educational technology to our students.
07/17/20
THE OPPOSITE OF NEGATIVE - I have a News App on my phone. Whenever I pull up this App, it seems the headlines try to describe EVERY SINGLE THING in as negative a light as is possible. It's actually humorous.
Jesus does not call Believers to dwell on the negative, the hate, and the fear. Instead, Jesus tells us exactly what to dwell on in Philippians 4:8. In this precious verse, Jesus gives this advice to His followers: "Finally, brothers, whatever is true, whatever is noble, whatever is right, whatever is pure, whatever is lovely, whatever is admirable - if anything is excellent or praiseworthy - think about such things.
If you are bogged down by the negative, try Philippians 4:8.
07/10/20
EAGLE BASEBALL CAMPS - Starting this week, Coach Osborne and Coach Westbrook will hold 3 weeks of baseball camps at ACS. You can check out the ACS website for more details.
Coach Osborne is a former college coach who served as the Head Coach at Wingate University in Charlotte, and as an assistant at UGA. Our pitching coach, Jake Westbrook, was a 1st round pick in the 1996 Major League draft and picked up 105 wins in his 13-year career. He also won a World Series with St. Louis in 2011.
A big thanks to Coach Osborne and Coach Westbrook, and to all those helping. I'm confident the next 3 weeks will be a great experience for these kids.
07/03/20
HAPPY BIRTHDAY, AMERICA! We will celebrate America's 244th birthday this week. We are uniquely blessed to live in the greatest Country on earth.
In my opinion, the great American experiment has worked all these years for two main reasons: (1) our Country was founded on Christian principles; and (2) God has protected us through His divine providence. For those of us who love our Country - in spite of its imperfections - this is an important time to stand for the freedoms we value - the freedom to worship, the freedom to speak, and the freedom to succeed.
At ACS, we are training young people to love their Country and their God. If that's what you want for your child, check us out.
06/26/20
YOU CAN AFFORD IT! Athens Christian provides the best value in private, Christian education in Northeast Georgia. In our annual survey of other private schools within a 50-mile radius, ACS continues to offer the most competitive tuition in the area.
One thing that makes ACS such a great value is the incredible family discount that we offer. If you have 3 or more children enrolled at ACS, you only pay tuition for the first 2 and a half children. After two and a half, your remaining children attend tuition-free.
Are you wondering what public education will look like in the Fall? Lord willing, we plan to be back on campus, educating students from a Biblical worldview. Come check us out!
06/19/20
CONGRATS, CLASS OF 2020! This past Saturday we said farewell to a gifted group of Seniors from the Class of 2020. We were blessed to be able to hold an in-person, socially-distanced graduation at Eagle Stadium on a gorgeous summer evening.
This unique class was awarded close to $2.0 million in academic and athletic scholarship money. But even more impressive is the fact that an amazing 80% of this year's class qualified for Zell Miller or Hope Scholarships!
Congratulations to Co-Valedictorians, Robert Loveall and Lydia Anne Mitchell, to Salutatorian Raegan Reinking, and to our ACS Citizenship Award recipients, Jarrett Boyd and Gabrielle Martin. We are so proud of all of our Seniors and know they will do great things!
06/12/20
STILL THE GREATEST! - We've had a rough few months in our Country. And it only got rougher the last couple of weeks.
But in spite of what some people want us to believe - that our Country is spiraling out of control - I know we still live in the greatest Country in the world. We are not perfect - no Country is - but we continue to live in the greatest Country on earth because of the FREEDOMS we enjoy.
Freedom of religion. Freedom of speech. Freedom to a fair trial. Freedom to elect our officials. Freedom to bear arms. Freedom to peaceful protest. And many others. Instead of living in despair, we should be praising God for the FREEDOMS we continue to enjoy.
06/05/20
THE ENCHANTER - We've all read fiction books. Often, these books focus on "beings" that have supernatural powers - these "beings" can do things that we can't.
One book I remember focused on an "Enchanter." This "being" could whisper into the minds of humans and convince them of certain things that were not true. This Enchanter reminded me of one of the forms of Satan - the Father of Lies. Satan the Enchanter first shows up in Genesis, where he tells Eve that she will "be like God" if she eats a certain fruit.
Is Satan lying to you? Does he speak fear into you? Does he tell you Jesus does not love you? Satan has many tools. Flee to Jesus to defeat Satan's lies.
05/29/20
SAVING PRIVATE RYAN - I'm not a big movie-watcher, but over Memorial Day weekend I sat down and watched Saving Private Ryan. The opening D-Day scene was a shocking reminder of how many Americans suffered and died to keep us free.
But something else struck me as I watched. Tom Hanks hand-picked several men for a special mission. By the end of the movie, all but 2 of those men had died trying to make sure that Private Ryan didn't.
In the movie, many died to save 1. But in the history of mankind, 1 died to save many. The One who died for the many is Jesus. He laid down His life to set us free from sin.
05/15/20....05/22/20
SUMMER CAMPS AT ACS! - Summer camps have always been a big part of ACS, and we look forward to hosting camps again this summer - albeit under very different conditions.
Camp Eagle runs from June 1 through July 31. This is a weekly camp for children ages 3 through 10 with multiple options for attending. Our brand new "Aggie" Camp runs June 23-26 for kids interested in agriculture and animals. We also have camps throughout the summer for baseball, softball, and tennis. Of course, we will have specific safety protocols in place for all of our summer camps.
If you are looking for something fun for your kids this summer, you can learn more and register for our camps at the ACS website.
04/24/20
GOD IS AT WORK - One characteristic of God taught in Scripture is that He is omniscient, i.e., He knows everything about every thing and every person. That makes Him very different from us.
In this difficult time, unbelievers may ask, "where is God when millions are losing jobs and tens of thousands are dying?" Believers will answer, "we cannot know everything that God knows, but we do know He is good, and we do know He is at work."
One evidence that God is at work is that churches are now reaching thousands of more individuals through online services than they were reaching before the pandemic. Although we cannot see God, we CAN see His work all around us.
04/17/20
A CERTAINTY IN UNCERTAIN TIMES - As I watch coverage of the coronavirus, one constant theme I hear is, "we are living in uncertain times." When will this end? Will I get sick? Will things ever return to "normal"? We don't know.
Although we live with an uncertainty about our immediate future, we need not live with an uncertainty about our eternal future. When Jesus bore our sins on the cross and then rose again, He provided a way of salvation.
As Believers, we claim the truth of Isaiah 43:1: "thus says the Lord . . . 'Fear not, for I have redeemed you; I have called you by your name; You are mine.'" This is our certainty in uncertain times.
04/03/20
A FAITH THAT SUSTAINS US - As Believers, we have faith that God is sovereign over everything that goes on in this world. We have faith that He created all things through His spoken word. We have faith that He walks through trials with us. We have faith, even when we do not know all the answers.
Our faith comes from His promises in Scripture. Our faith is a gift of the Holy Spirit who dwells inside of us.

If you are losing faith in government, or in the answers man can provide, I would encourage you to put your faith in the One who controls all things. He is the only One who can save our eternal souls.