HEAD OF SCHOOL'S CORNER
Steve Cummings is a 1981 graduate of Athens Christian School, and the youngest son of ACS Founders, Drs. Buhl and Lois Cummings. In 1984, Mr. Cummings graduated with a Bachelor's degree in Social Studies Education from Bob Jones University, and in 1987, obtained his Juris Doctor degree from The University of Georgia School of Law. Following a two-year, federal judicial clerkship, Mr. Cummings practiced law in Atlanta and Athens from 1989 until July, 2008, and served as Legal Counsel for the American Association of Christian Schools. In July of 2008, Mr. Cummings became the second Head of School in the history of Athens Christian School. Mr. Cummings is married to Michelle Hebert Cummings from Kenner, Louisiana, and has four sons, Joshua, Elijah, Titus, and Seth.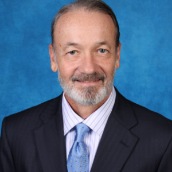 Steve Cummings
Head of School
Degrees
College

Bob Jones University

(1984)

Post-graduate

UGA School of Law

(1987)
WEEKLY COLUMN
01/08/21
"IN GOD WE TRUST" - I always enjoy seeing the words "In God We Trust" on license plates. This phrase became our national motto in 1956.
If you have these words on your car and you have children, you should think about sending them to a Christian school. After all, the statement you are displaying is an indication that you are serious about your faith.
If you also want your children to be serious about their faith, a public school is a tough place to be. Let's be honest - God has been removed from public schools. So, if you want an education partner that will reinforce what you are teaching at home, you'll be "at home" at ACS.
01/01/21
LOOKING FOR HOPE? Many would say that 2020 was the most difficult year in our lifetimes. The virus caused much sickness, many deaths, unemployment, business closings, church closings, and loss of our ability to be together. We've seen political chaos, racial strife, and hatred on display.
As a result, people are looking for hope. Some see hope in a vaccine. Some see it in a new president. Some see it in government assistance.
Hebrews 6:19 says, "We have this hope as an anchor for the soul, firm and secure." What is this hope? It is God's promise to save His children through His Son, Jesus. For Believers - even in difficult times - our hope is Jesus, our anchor for the soul.
12/25/20
WAS HE THE MESSIAH? Not many people dispute the fact that Jesus was a Jewish historical figure who lived over 2000 years ago. The controversy over Jesus is whether He was who He claimed to be - the Messiah, the Savior of sinners.
Some claim He was a great teacher, or even a prophet, but not the Messiah. But if he was not the Messiah, then His claim that He
was the Savior of sinners was a lie. How could Jesus be a "great teacher"; if He lied about who He was?

If He was not a liar, then He is who He claimed to be. He was and is the Messiah, and we joyfully celebrate His birth again this Christmas!
12/18/20
AN ORDINARY MAN - Throughout Scripture, God used ordinary people to carry out His extraordinary plan. One of those people was Joseph, the carpenter from Nazareth.
Joseph's first, big step of faith was taking Mary as his wife. She was pregnant, but not by Joseph. No doubt they faced ridicule from a culture and community that would not accept this arrangement. Joseph and Mary had to be strong in their faith, as they traveled to Bethlehem for the birth, and then to Egypt to avoid Herod's wrath.
Throughout his adult life, this ordinary man walked by faith and fulfilled God's plan. What a blessing it is to know that God is still using ordinary people to fulfill His plan of redemption for mankind.
12/11/20
CHRISTMAS FOR THE FAMILY AT ACS - This next Monday, December 14, we will present the second showing of our annual Christmas for the Family program at Athens Christian. The program will begin at 7:00 pm in the ACS Drama Center. We are having two programs this year to keep audiences at an appropriate level.
We will celebrate the Christmas season in word and song, while being entertained by our Middle School and High School Bands and Choirs. This year's program is an adaptation of the beloved story "A Christmas Carol," which is a reminder of the redemption available to mankind.
The program is free and open to the public. We hope you will come and celebrate with us.
12/04/20
REMEMBERING PEARL HARBOR - Monday, December 7, marks the 79th anniversary of the Japanese bombing of Pearl Harbor. President Franklin D. Roosevelt noted that December 7 would be "a date which will live in infamy."
Nine ships were sunk and 21 ships were severely damaged in the attack. Of the 2,402 Americans who died, 1,177 were from the USS Arizona. The Arizona's sunken remains are still visible at Pearl Harbor, and a national memorial has been built over the ship. Oil continues to leak from the Arizona, and can be seen on the surface of the water.
We should remember our Nation's history, and we should thank those of the "greatest generation" who fought to keep us free.
11/27/20
THE THANKSGIVING PRESIDENTS - For Americans, Thanksgiving has always been a celebration of God's blessings on our Country. In 1789, President George Washington issued the first national Thanksgiving Proclamation:
"Whereas it is the duty of all nations to acknowledge the
providence of Almighty God, to obey His will, to be
grateful for His benefits, and humbly to implore His
protection and favor . . . I appoint Thursday, the 26th
day of November, 1789 . . . that we may all unite to
render unto Him our sincere and humble thanks for
His kind care and protection."
In 1863, President Lincoln proclaimed the last Thursday in November as a day "of Thanksgiving and Praise to our benevolent Father."
Two great Presidents summing up what Thanksgiving is all about.
11/20/20
LARRY JAMES MEMORIAL GOLF TOURNAMENT - On Monday, November 23, ACS will host the 3rd Annual Larry James Memorial Golf Tournament. Jennings Mill Country Club is hosting, and you can register on the ACS website.
Larry was a 1995 graduate of ACS, and was also the former Head Pro at Jennings Mill. During his 4 years at ACS, the Eagle basketball team went 118-14 and won 2 GCAA State Championships. Larry holds the single season scoring record with 818 points.
Larry went on to star at Emmanuel College, where he was a 4-time NCCAA All-American. He was known for his gentle giant meekness off the floor, and for his competitive drive on the floor. We hope you can join us on Monday.
11/13/20
AMAZING EFFORT! One of the most important things we do each year is to participate in the NE Georgia Food Bank's Hunger Bowl Campaign. This year, we smashed our internal goal by bringing in more than 86,000 cans of food. Our efforts will provide almost 70,000 meals for the less fortunate this holiday season. That is AMAZING!
I could not be more proud of our ACS family. For the 7th year in a row, ACS was the overall Hunger Bowl winner.
A BIG thanks to Pam Kennon who headed up our efforts. And, thanks to all of our faculty members who encouraged our students to give, and who talked to them about "why" we give.
11/06/20
EAGLE XC ADVANCES TO STATE! - Congratulations to both the Varsity Boys and Varsity Girls Cross Country teams as they advanced to the GHSA Cross Country State Championships. The Finals will be held in Carrollton on November 6-7.
The Boys finished second at Region, and they were led by Freshman Nathan Smith who finished 3rd overall. Drew Beedle, Ali Nabulsi, Jacob Cereneche, and Jack Todd also scored at Region.
The Girls finished fourth, and they were led by Junior, Keren Palma, who finished 5th overall. Abigail Cabaniss, Sarah Beth Townsend, Lydia Fortson, and Mali Todd also scored points for the Lady Eagles at Region.
Thanks to Coach Cayla Redish and Coach Tim Cummings for doing an awesome job with this young group!